Kareem Badr Interview – Got Your Back Podcast Episode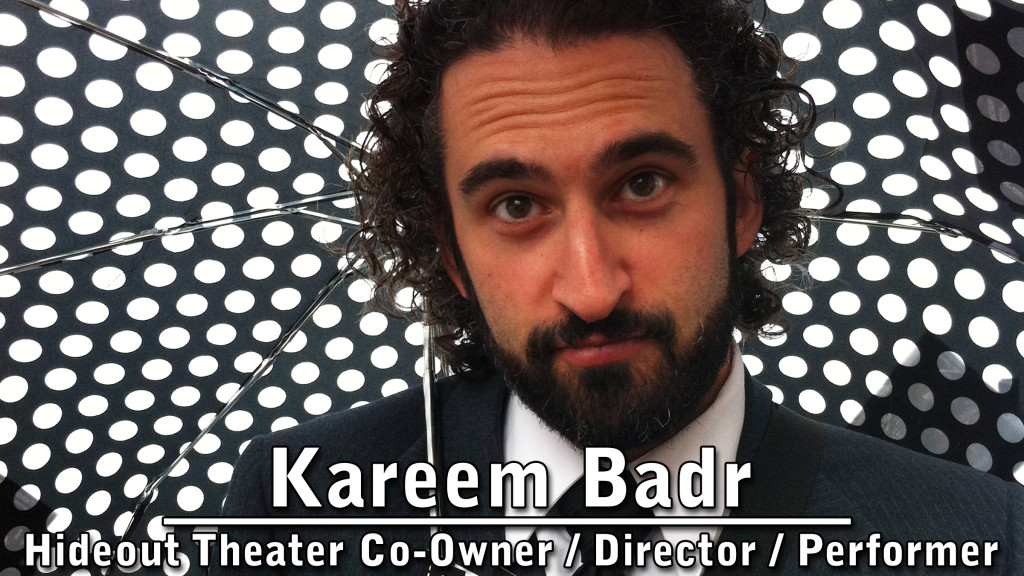 On this episode of Got Your Back we were joined by Kareem Badr.
Kareem is a co-owner of the Hideout Theater in Austin, TX where he also teaches and performs regularly in a number of shows including the Big Bash on Friday evenings as well as with his long running and world touring group of 9 years, Parallelogramophonograph.
Kareem was kind enough to stop by the studio and spend some time talking with KC and myself about a number of topics ranging from the nitty gritty of his approach to narrative improv to the parallels between improv and the way of the samurai.
Process vs. Product
Also in this episode we continue our conversation from the previous episode regarding process vs. product in improv. Again, Kareem had a tremendous amount of thoughtful insight to offer on the subject, and ultimately left me questioning where the boundaries of each are.
In the final part of this episode we do our best to help out the community at large and "let go" of some characters we feel may be showing up too frequently in recent improv scenes.
Kareem can be seen performing weekly with his group P-graph on Fridays at 10pm at The Hideout Theatre.
Featured song in this episode Joshua Tree by local artist and recent ColdTowne graduate, Leah Nobel. Visit her website and follow her on facebook.
Listen to the episode:
Streaming from our blog gybpodcast.com
Here on Itunes
Here for Direct Download and Android.